"There can be no peace. No union. I see it now. The Legion's masters have shown me the truth, the truth that there can only be chaos."
---
Merlanda Emsworth, Hordebane, Exiled One, and Lady of Chaos, is a driven mage turned warlock that seeks only the annihilation of her enemies. Her fury guides her actions, rather than her knowledgeable mind.
Merlanda was born to an unknown father and Lindara Emsworth, who was posing as a servant in the house of Lanneros, 12 years after the beginning of the First War. She was the half-sister of Drasgar Emsworth, although this was unknown to either of them. When she was twelve, she traveled to Dalaran to learn in the Kirin Tor as a mage. She remained there for the next three years.
During the Northrend Campaign, her unknowing half-brother visited her in Dalaran while on his way to Icecrown; the two spent the night in her quarters. Later, the hatred inside her sparked during the Argent Tournament, when the Horde interceded and wounded her half-brother, whom she saw as a lover.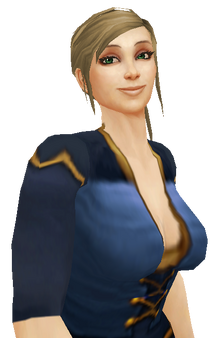 Ad blocker interference detected!
Wikia is a free-to-use site that makes money from advertising. We have a modified experience for viewers using ad blockers

Wikia is not accessible if you've made further modifications. Remove the custom ad blocker rule(s) and the page will load as expected.